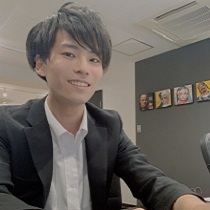 TAMURA
Joined the company by 2020
Sales division
---
Q.
Please let us know about yourself.
A.
I am Tamura from the sales division. I joined the company with no sales experience.
Q.
Why did you choose Def tribe?
A.
At the job interview the representive of the company proceeded the interview centered on fun private time and this relieved the tension a lot. Getting treated as a newcomer with so much intimicy was a big reason to join the company
Q.
Please let us know what is fun or good working here?
A.
I am looking forward to getting to know various people at appointments.
Q.
What did you do, when you had problems at work?
A.
I consult various people. We have many opportunities for interaction among employees such as relaxing parties, so I think it is an environment where it is easy to actively consult somebody.
Q.
How do you relief your stress or when you are tired from work?
A.
Although I don't feel particularly stressed at the moment, I am refreshing myself by going to live concerts and playing guitar.
Q.
Please let us know your challenge in the future.
A.
I'm studying a lot currently, but I want to do my best to become a full-fledged person for the company.