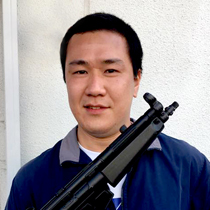 IKENAGA
Joined the company by 2016
System Development Section 4 Manager
---
Q.
Please let us know about yourself.
A.
I am Ikenaga and after graduation I am now working 5 years. Currently, we are creating a storefront system for a mobile phone sales shop.
Q.
Why did you choose Def tribe?
A.
I joined the company for a job change, but at first I was triggered by seeing the salary. From there I heard about the atmosphere of the company and the stories of the representatives, and thought that it was a company that cares about employee satisfaction, so I decided to join the company.
Q.
Please let us know what is fun or good working here?
A.
I think that work itself is only little fun. It is easy to say, that having fun is much more fun than working at any company. At Def tribe they try to make that unpleasant job as easy as possible. I think that is a very good thing.
Q.
What did you do, when you had problems at work?
A.
I try to consult other people. I think it's important to communicate regularly so that you don't get serious consultations like interviews. (Like creating a easy to ask environment..)
Q.
How do you relief your stress or when you are tired from work?
A.
I play online games every day. On the weekends I go outside, do survival games or go to live concerts, which is good to relief stress. Basically doing things which are fun to do.
Q.
Please let us know your challenge in the future.
A.
I like online games and I'd like to try to make games by myself. That's why I learn the skills needed for doing so!